AADR is a Non-Profit 501(C)(3) that works tirelessly with volunteers to save homeless dachshunds and place them into loving forever families.

Our Mission Statement

Online Pampered Chef Party

Here's Your Chance To Shop For A Cause !!!
Why not pick up some Pampered Chef products for yourself or loved ones through
this Fundraiser while 10-15 % of your order goes directly to benefit Weenie Wishes
Click the image for details!!



Dachshund House Dreams
Call For Items for Auction!

Starting on May 1, 2014, All American Dachshund Rescue will be auctioning off a number of fun and unique items to bid on to raise money for our organization - and the more items we have the more money we can raise, so we're asking for your help. We need items for the auction!


One of the concerns of many involved in AADR is the viability of AADR long term. Our intake is one of the largest hurdles that we have as an organization -- getting animals into our care, vetted, and then disbursed to all of the wonderful fosters that we have across many states. How do we move from being centered around one person/home and ensure that we are positioned strategically to continue the mission that we consider so vital for the Dachshund community.

A wonderful opportunity has been presented to AADR through the generosity of a family involved in AADR. We have been offered a long term (100 year) lease on a portion of property to have an intake/care facility constructed. This would provide for a long term plan for animal intake and would be offset somewhat by what we would save over current kenneling expenses we are often hit with due to intake requirements.

Part of realizing this dream is to raise funds for the construction of the building and necessary furnishings. We want to do this without diverting any of our current operational funding. While we see this facility as a vital part of our future, we can't sacrifice any animals needing us today for that dream, it just isn't how we work.

Proceeds from this auction will help kickstart our fund drive for The Dachshund Home. This will ensure AADR will be there for Dachshunds for years to come! Join with us in dreaming this dream! Our dogs are depending on you!

To donate items for our auction, please visit our BiddingForGood page at the link below!



Shop at amazon.com?
PLEASE consider making
your purchases through
to benefitour pups!

Featured Dachshunds
These are our "featured" Dachshunds! All of our dogs are special, but we hope you will take an extra look at these dogs seeking a forever home! Don't let distance be an obstacle for a dog you would consider. We have networks of volunteers that in many cases can help get a friend to your (and their) home (up and down the east coast especially). Give us a chance to try to help!

MISTY#3
This is Misty. Usually, we try to write these from the dogs perspective. However, Misty is a little shy and asked me to go ahead and write this for her. Misty was found wandering around in Clarksville, TN. They couldn't find her owner and reached out to us here at AADR. We took in Misty and we want to get her into the right home for her.
We believe Misty had a very rough start to life. She probably was not well socialized and she does what is called "submissive peeing". This is common in puppies, but most outgrow it. It is a dog's way of showing they submit to the pack leader. However, in adult dogs it can mean they weren't well socialized or were abused. We aren't sure which for sure, but sadly we suspect it was she was not treated well. She really needs someone who can help her gain trust in people and herself.
Misty was also recently diagnosed with Addison's disease. It is actually a disease that people can have as well. Not to worry, it is not contagious, it is actually genetic. She will need to be on some simple medications and have routine bloodwork to check her some levels to ensure the dosing is effective. Addison's is highly treatable and there is no reason this girl can't live a long healthy life.
So, the bottom line -- we are looking for a special home to step up for this girl. Some might think she has two strikes against her, but we don't believe she has struck out. Misty just needs a bit of help getting to the point she is the companion dog she can be for that special someone. As part of her timid nature, she needs to be crated/contained when left alone, that may improve as she gains confidence, but it will be a work. We do believe there is a heart out there big enough for Misty and we hope you consider her!
!Congratulations to these Pups who got Furever Homes!


| | | |
| --- | --- | --- |
| | | |
| Bailey#7 | Bella#10 (and Bo#5) | Bubby |
| | | |
| Cass | Daisy#13 | Dottie |
| | | |
| Huey#3 | Kirby | Lindy#2 |
| | | |
| May | Oscar and Jesse | Pumpkin#2 |


Sammy is the Barksdogfor AADR.
You can see his story HERE.

Follow Sammy on
For the lastest AADR updates!
And now we're on Twitter too!




All American Dachshund Rescue is expanding throughout the country and is in desperate need of help in each and every state except for CT, RI and MA(laws in those states will not let us have foster homes unless we are approved by the Dept. of Ag and their rules are too numerous to fulfill). If you would be interested in helping to save dachshund's lives, there are a number of ways you can help.
Fill out an Application to Become a Member
Fill out an Application to Become a Foster Parent

Fill out an Application to Adopt a Dachshund
Additional Information on the Adoption Process

View our Available Dachshunds
Sponsor a Dachshund - View our special need cases

Donate to help with ongoing and numerous expenses

Transport Dachshunds to foster and forever homes

Help A Senior - Read the touching story of Sir Edward
**If you haven't yet, please consider requesting to be put on our mailing list.
We send out monthly emails to let our supporters know exactly what we are up to and the areas in which we need help most.
Email aadrwebmaster@gmail.com to be added to our mailing list!
Click HERE for our most recent Email Update.


Pet My Wiener.com recently began a Tuesday Feature on their website called
Rescue Tuesday! Each Tuesday they feature a Rescue Dog and their first Feature
Dog was AADR's Bella7 (since Adopted!!) This week (June 4, 2013) they are
featuring Spark!

Also, PetMyWiener.com is proud to donate 5% of all sales to Dachshund Rescues
and other organizations helping underprivileged Dachshunds in need nationwide!
What an awesome opportunity to highlight one of our pups to Dachshund lovers!


See the feature
on Spark at:

http://www.petmywiener.com/
rescue-tuesdays-51t.aspx

SPARK HAS BEEN ADOPTED!!

"Spark gathering his toys and
getting ready for his forever home!"
ADOPTED!!!!

Please set GoodSearch as your Home Page and help us raise funds by simply using it to search and shop!
---
Looking For a Dachshund to Add to Your Family?
We have dogs that are not yet listed on the website. If we don't currently have "your" special dog, consider filling out an application anyway. We will process your application so you will be pre-approved when your special dog does come in. This way, you won't have to wait when you see the dachshund you want and he or she will be in your home before you know it!

If you don't see any dachshunds in your exact location, don't let that discourage you! We have members and supporters all over the country who allow us to have a wonderful volunteer transport system. We will make our best effort to work with you on getting that special dachshund as close to you as possible!

---

Dachshund Surrender

If you've come to our site because you believe you must surrender your dachshund, please click here for more information about how we can help you.
---
Donate a Thundershirt to AADR for anxious dachshunds! (Please order Size Small)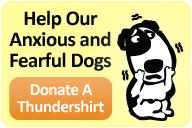 Visit Our New Cafepress Store
Featuring Unique Dachshund Gifts
---
---
For God so loved the world that he gave his only begotten Son, that who so ever believeth in him shall not perish, but have everlasting life.
Pet Guardian Angels of America,
a national pet rescue and adoption assistance service
also offering general and health related articles
and resources for all types of pets.
1-800-PetMeds