AADR is a non-profit 501(c)(3) volunteer based organization.
We work tirelessly to save homeless Dachshunds and place them into loving, forever families.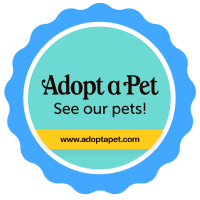 The dogs below are hoping they will be in their forever home soon!
Thanks for considering them for your forever friend!
(Click on the name banner or photo to see more info and to apply!)



Chance was tied to the owner's porch and they went off to Florida. Neighbors stepped in and took her to the shelter and we were contacted to take her.

Chance sadly is blind with SARDS (Sudden Acquired Retinal Degeneration Syndrome). Do not let this stop you from adopting this sweet girl. She does not know she has a disability. She moves around the house and down the ramp to the back yard with ease. It just takes her a couple days to figure out "the lay of the land" and then she's great.

Chance's wish list includes:
- A fenced yard so she can safely explore
- Another dog to keep her company when you aren't there
- Preferably someone that's home a lot because she loves her humans
- No apartments

If you can look past her blindness and see the wonderful girl she is, then you need to put in an application right away because you won't find a more perfect dog than Chance! See more photos and read more about Chance on her personal pet page here!



- Sweet and affectionate - Young and playful - Loving - Must have a playmate

Hi, I am Hector and I am a doxie mix. I am looking for a forever home. While I love my foster brothers and sister, I would like to have a home to call my own.

I was an owner surrender from West Tennessee and I had mange. But I am all better now and loving life!

I love to play, play, play. I love to wrestle with my foster siblings and I love toys. Toys with squeakers are the best.

My foster parents tell me that I am a good boy. I try so hard. I snuggle with them and let them scratch my belly. I give them kisses and lots of love so they know how good I am.

I use the doggy door and oh…I almost forgot…when I first got to my foster home…they let me sleep in the big bed...and boy, was I in heaven! I rolled around and got under the covers. So, I would really like to have a forever home that lets me do that.

I am still a puppy in some ways, so I do need a little guidance. But I am ready and willing to learn. I have a lot to offer you.

Foster mom and dad say I must have a playmate. That is really important because I love playing and I have a lot of energy. I would be much too lonely as an only dog. They also say I must have a fenced yard. I love to run everywhere. It makes me so happy.

Woman only home

Hello, Sprout here! Thank you for taking the time to check me out! I have been in my foster home for over a month, and am adapting very well. I was very timid and shy, but I'm coming out of my shell. I hang with the others fosters.

My needs are simple. All I need is:
- A fenced yard, this is a must have
- Another dachshund to hang with and learn from
- Someone who will be patient with me while I learn to trust
- No apartments please
- Woman only home, I'm afraid of men because someone was mean to me

If you are looking for a sweet boy who doesn't bark much, then you should not look any further! Sprout is a quiet boy but he does need time to understand he can trust you and that you won't hurt him.

He will need love and patience. His foster mom will be happy to explain everything about Sprout if you want to reach out to speak to her. But don't wait... complete the online application and she'll be happy to answer all your questions.

Foster mom is going to be very picky where he goes because we don't want him to be returned again by a family that doesn't understand how he is.

Since we have been giving him a smaller dose of Prozac, (the second family put him on it but we can't figure out why), he is getting much better and in about three weeks he'll be completely off it.

Please don't let anything about Sprout scare you off -- this boy is so very very sweet and deserves his last home. Please make his home yours, if you have the patience and love to give him.

Please note: We will only allow female/s to adopt Sprout in a home without children. See more about Sprout on his pet page here!

Tyson comes from a family that had a lifestyle change in the Tennessee-Georgia area. His wish list includes:

- Fenced yard
- Another dachshund to pal around with
- The secure space to patrol for and chase squirrels
- No apartments

Tyson is a loving, loyal and protective little guy who loves nothing more than lounging in your lap and being your best friend.

He was pampered and loved for 10 years by his previous owners, (who adopted him from All American Dachshund Rescue in 2009,) who now must seek a new and special home for him due to grandkids who are too young to understand how to be respectful of a dog's space.

When not close by your side, Tyson loves to sit near a window where he can see all the neighborhood comings and goings and alert you to the presence of visitors (he's a super watchdog!). Tyson doesn't look or act his age of 11... he is fit and trim and the perfect picture of how a healthy dachshund is supposed to look

Some of the words that best describe Tyson are: loves unconditionally, loyal, smart, alert, happy, energetic and your best friend.

He needs a fenced yard and enjoys outdoor time. If you have a screened porch or other outdoor living area, that's a big plus as well. Tyson will sit outside with you for hours protecting you from every bird, squirrel and any other critter that dares to invade your yard.

Tyson does well with other dogs as long as they are not aggressive or overly playful. He has lived with another dachshund companion for the past 10 years and would probably enjoy a compatible dog friend in his new home.

His favorite time of day is bedtime. He has a built in clock and will remind you when it's time for his bedtime routine which consists of one last potty break, a small treat, then best of all getting to retire to the big bed with mom and dad.

Tyson's current owners want to make sure that he goes to an amazing new home and will be screening new applicants closely for the right fit. Tyson is special and is deserving of someone who will appreciate, care for and love him the way that he is now. Get more information about Tyson on his pet page here!
Sammy is the Barksdog for AADR.
You can read his story HERE.
John 3:16
Follow us on Facebook
and Twitter!

Shop online on amazon.com?

Consider enrolling in Amazon Smile
Just sign up & set us as your charity!
Prime members can sign up, too!
Amazon reminds you: If you don't log on under it's amazonsmile link, they'll prompt you to!
---
Looking For a Dachshund to Add to Your Family?
AADR has dogs who are not listed on this site yet! If we don't currently have "your" special dog, consider filling out an application anyway. We will process your application so you will be pre-approved when your special dog does come in. This way, you won't have to wait when you see the dachshund you want and he or she will be in your home before you know it!

If you don't see any dachshunds in your exact location, don't let that discourage you! We have members and supporters all over the country who allow us to have a wonderful volunteer transport system. We will make our best effort to work with you on getting that special dachshund as close to you as possible!
---
Please set GoodSearch as your default search engine and
help us raise funds by simply using it to search and shop!


Instead of Googling, GoodSearch!
---
Donate a Thundershirt to AADR for anxious dachshunds! (Please order Size Small)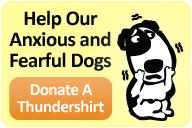 Visit Our New Cafepress Store!
Featuring AADR Logo Items and Gifts
---

For God so loved the world that he gave his only begotten Son, that who so ever believeth in him shall not perish, but have everlasting life.